---
KRIS LIMPENS
Kris & Rolf. If you wouldn't know better this sounds like an expensive eau de parfum, or maybe even a famous fashion duo. But they aren't. Though both fashionable types, Kris & Rolf are consultants. For PNO in Belgium and in the Netherlands, to be precise. For this occasion, they interview each other. A nice way for them to get to know each other better, and for us to get to know them.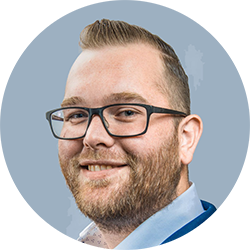 ---
ROLF HUIZINGA
Kris: Hi Rolf, nice to meet you! I must say, it wasn't easy to find some time for this interview; both your and my agenda were stuffed! But we managed, and I am glad we did, because we had a nice conversation!
So, for the record (and this article), can you introduce yourself?
Rolf: Sure. I am Rolf Huizinga, consultant in the Amsterdam office. I work for the Regional team in Amsterdam and I am also part of the Dutch national IT team. In my daily work I am mainly involved in grant applications from IT clients.
And how about you: who is Kris Limpens?
Kris: Well, I am a senior consultant compliance management and part of our Belgium team, located in Zaventem.
How did you end up working for PNO?
Rolf: When I was working for IT consulting company Capgemini I was contacted by a recruiter. The job appealed to me and now I work with innovative companies in the greater Amsterdam area.
And you?
Kris: I was seconded at PNO via my previous employer Trifinance, a financial consulting firm that outsources financial specialists, to take over compliance activities when some people left the PNO Belgium team.
So, did you follow an IT study?
Rolf: Yes, I did. I studied IT with a specialization in IT Service Management.
And what did you study?
Kris: I studied Economics– International affairs. That's because I have an interest in business, financial figures, internal networks and cultures.
What does an ordinary business day look like?
Rolf: On an ordinary day I arrive at the office, get a nice cup of coffee and start reading the newspapers – especially news about new and old grants. Next, I'm off to meetings or developing proposals. And to clear my mind I play a game of darts once in a while! We have a dartboard in our office in Amsterdam. Great to blow off steam in stressful periods (like the yearly WBSO (R&D tax credit) deadlines)!
And how's a typical day for you?
Kris: If I have no appointments with clients, I arrive at the office after spending some time in traffic, as we all know. I say hi to my colleagues at the office, have a quick small talk and start working. During the day I have meetings and phone calls, send mails, prepare financial reports, set up project planning and in the meantime solve compliance issues of clients related to grant regulations. As Compliance advisor it is impossible to work on one dedicated client, since all granted projects run at the same time. But that makes my work so interesting, challenging and lively.
What would you like to achieve within PNO?
Rolf: That the market sees us as the absolute best advisor in grants and innovation (which we already are of course!).
Kris: I would like compliance being promoted as a business unit within the PNO Group and expanding its business. Next develop a business model in which we can convince clients and potential clients that they can also rely on PNO when a project has been granted, and that we can help them with project management and problem-solving services to finalize their projects in a correct and good way.
Where do you originally come from?
Rolf: I originally come from Groningen, the best city in the world! Although, if I could live anywhere I want, I think I would choose Melbourne, Australia.
And you?
Kris:
That would be Tahiti
Rolf: That sure sounds nice. I had my ultimate dream holiday when I traveled through the United States for a month where I asked my girlfriend to marry me. Luckily, she said yes!
Kris: That's so romantic! My holiday can't compete with yours.
What other passions do you have?
Rolf: Rugby – the complete opposite!
Kris: I love playing music. I play saxophone in a showband for over 24 years now. Doing that makes me really happy, next to having a nice chat and drink with my friends.
Rolf: I agree: nothing compares to the company of good friends, partying or playing a rugby match!