ALMOST THE REAL THING
If you have ever flown a flight simulator game on your desktop computer you know how realistic it can be. You can choose your own plane (from a Bombardier Learjet to a Boeing 747), pick an airport of your liking, or even try to land on an aircraft carrier on the high seas. But this all is nothing compared to what Lars van der Meulen does. This 37 seven year old Dutch PNO ICT consultant has taken the hobby of flight simulation to a higher level. With around 3,200 flight hours he is able to fly a Boeing 737 from Amsterdam Schiphol to Innsbruck Kranebitten. For real!
SO, LARS, WHY A BOEING 737?
"The fun of flying a smaller aircraft (up to 3 hour flights) is that you are constantly busy flying, from taking off to landing. You start with making a flight plan and getting it approved through internet-based flight simulation and Air Traffic Control (ATC) networks like VATSIM or IVAO (0.5 million registered members). Then you perform the start-up sequence, ask for clearance, taxi to the designated runway and take off via a Standard Instrument Departure flight route. Around the time you are at cruising altitude you already have to start preparing your checks for the approach and the landing at your destination airport. During the whole flight you are communicating with air traffic control, checking the weather on route and determining the approach. Even though this is simulation, there is no room for error."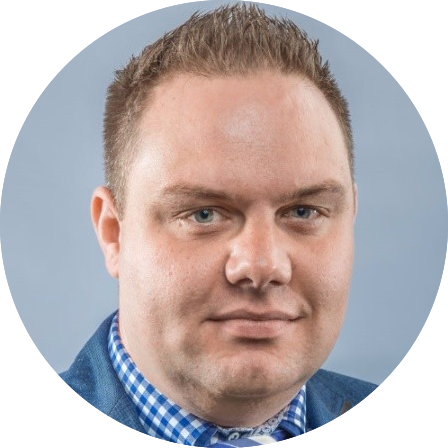 ---
LARS VAN DER MEULEN
HOW SO? NO ONE NOTICES WHEN YOU SUDDENLY STOP IN THE MIDDLE OF YOUR FLIGHT, RIGHT?
"Wrong. Flying online at this level is as close to the real thing you can get. Especially if you join one of the many flight events on VATSIM or IVAO that are being organised all the time. These events offer everything that also happens on real flights. There is a supervisor, there is ATC, there are other virtual pilots flying, there are real weather conditions, and so on. So, if you are flying during such an event, you are communicating with real people, you get real instructions, and you have to follow them. A careless manoeuvre of one pilot can affect the other aircrafts that are in the vicinity at that time, so nonchalance is not appreciated. Again, like in the real world of flying."
I SEE. AND HOW ABOUT AIRPORTS? ARE THEY ALSO LIKE THE REAL THING, AND WHICH ONES DO YOU LIKE BEST?
"Well, there are companies which develop very accurate scenery software for flight simulation. Saint Martin (island in the northeast Caribbean Sea) is one of my favourites, where touchdown is dangerously close to the beach. But I love Innsbruck, because of the specific approach. Innsbruck is situated in a valley, in the middle of the Alps, between two mountain ridges. Especially when there is a lot of air traffic, you must make some difficult turns and go through the whole landing sequence extra carefully. During a flight event, even the runway that is actually in service at that time, is simulated.
WITH 3,200 FLIGHT HOURS, CAN YOU FLY A REAL BOEING?
"I think so. As long as everything is pre-programmed in the Flight Management Computer, and as long as there are no technical defects. A flight (over land) goes from SIDs (Standard Instrument Departures) to STARs (STandard Arrival Routes) via a network of airways, radio beacons and intersections, so everything can be fully automated, from start to finish. It is not even necessary to hold the yoke or side stick while landing the plane. Nowadays aircrafts are all equipped with an Instrument Landing System (ILS) which makes it possible for a plane to land fully automatically. Even pulling up the nose slightly (flare) is done by the FMC and auto throttle system to set the attitude to touchdown on the main (rear) landing gear first."
"It is fair to state that in our daily quest for new clients we should all look in our own, private (hobby) environment as well"
DID YOU EVER FLY A REAL AIRCRAFT?
"I did, actually. I took some lessons in a Cessna plane at Teuge airport (The Netherlands), to feel what it is like, and to learn how to navigate. And yes, when I was a child I wanted to become a pilot, but I am happy with the way I can practice my hobby now. It has become very sophisticated."
WHAT ABOUT HARDWARE AND EQUIPMENT? IS YOUR HOBBY EXPENSIVE?
"You can make it as expensive as you want. Some fanatics build a complete 1 to 1 scale cockpit in their attic, which can go up to as much as 70,000 euro. I am not one of them (yet). For now, I have three powerful computers: one for the flight simulation platform, one for charts and navigation and one for generating the weather. Especially the navigation and weather software use a lot of computing power and I don't want that to interfere with the graphics of the simulation. Also, I have a yoke, pedals and some navigation gear, but I would really like to expand with an overhead panel and separate glass cockpit. Ultimately my wish is to buy a ready to use cockpit frame on which I can mount all displays, gauges, clocks, buttons and switches."
IS THERE AN OVERLAP BETWEEN YOUR HOBBY AND YOUR WORK AS A PNO CONSULTANT?
"Yes definitely. First of all, in my 'previous working life' I built and marketed management simulation software. The algorithms and the way calculations were handled by the computer is somewhat similar to flight simulation.
If I look at PNO, the world of flight simulation is very interesting because there are numerous niche companies that are very innovative and progressive in what they do, and they have a global market. Although I can do this at home my hobby hides a world of high-end, globally active producers and suppliers which can very well be an interesting target group for PNO. It is fair to state that in our daily quest for new clients we should all look in our own, private (hobby) environment as well. We might be surprised at what we might encounter…"